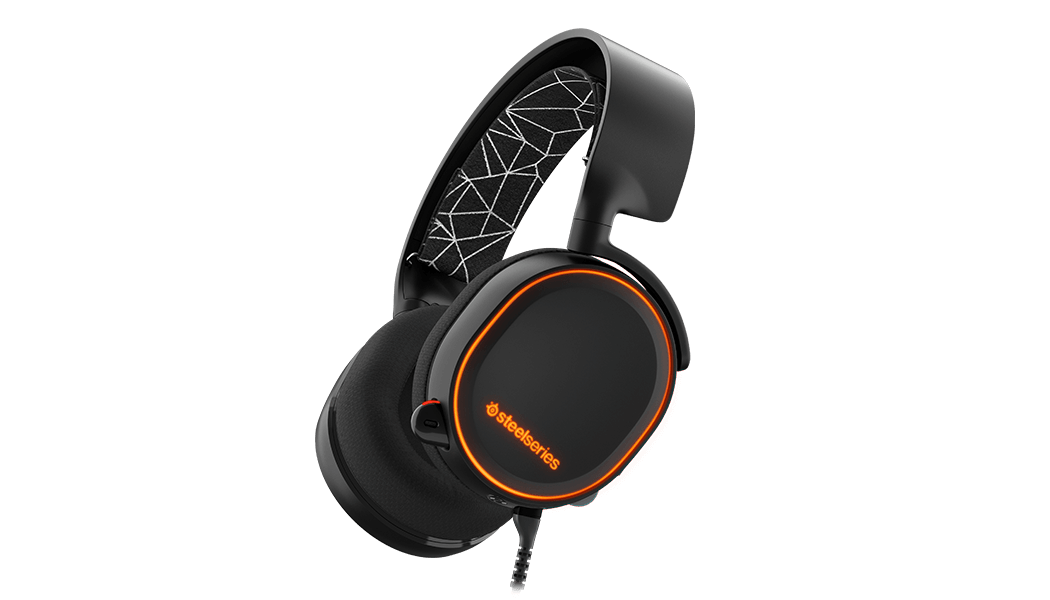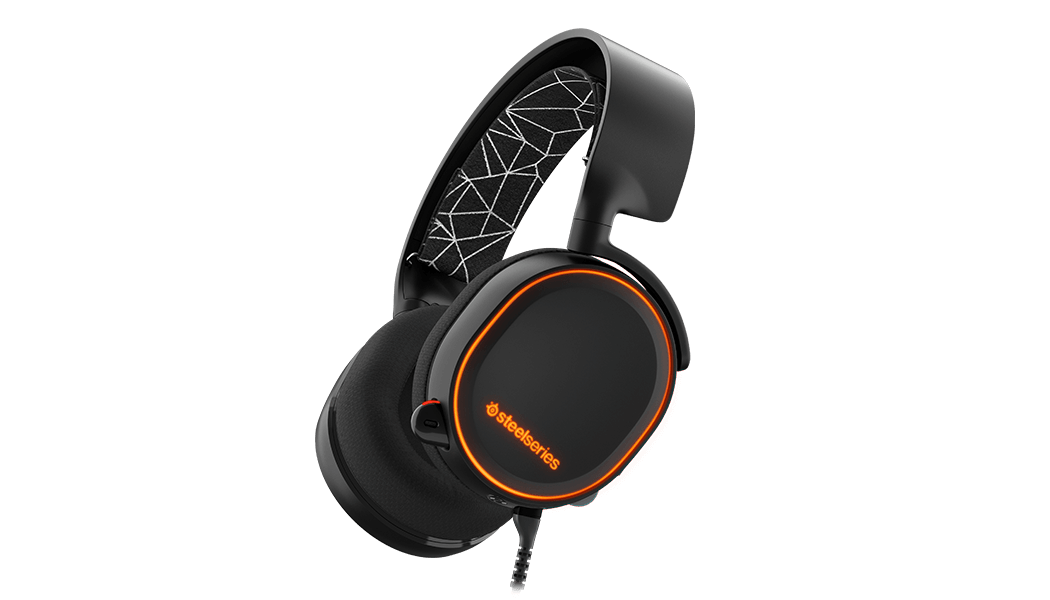 Arctis 5
7.1 Surround RGB Gaming Headset
Prism RGB Illumination
ClearCast, the Best Mic in Gaming
Free carrying bag with purchase
14.99
Free
S1 Speaker Drivers + DTS Headphone X

The same speaker drivers found in our flagship $300 headsets, the S1 drivers are engineered to deliver a detailed, balanced soundscape with ultra-low distortion.

ClearCast Microphone

The ClearCast microphone uses an exclusive bidirectional design delivering unmatched voice clarity and background noise cancellation.

Read the full story

Ski Goggle Headband

The adjustable elastic fabric perfectly contours across your head, evenly distributing the weight, eliminating all pressure points.

AirWeave Ear Cushions

Inspired by fabrics found in athletic clothing, the incredibly soft AirWeave ear cushions keep you cool, dry, and comfy for hours of gaming.
Speaker Drivers
Headphone Frequency Response
20–22000 Hz
Headphone Sensitivity
98 db
Headphone Impedance
32 Ohm
Headphone Total Harmonic Distortion
< 3%
Headphone Volume Control
On Ear Cup
Microphone
Microphone Frequency Response
100Hz–10000Hz
Microphone Pattern
Bidirectional
Microphone Sensitivity
-48 db
Microphone Impedance
2200 Ohm
Microphone Noise Cancellation
Yes
Microphone Location
Retractable
Microphone Mute Toggle
On Ear Cup
Connection
Connector Type
USB or Single 3.5 mm, 4-Pole Plug via included adapter
Adapter
Single 3.5 mm, 4-Pole Plug
Box Content
Product Information Guide
Arctis 5
Main Cable
USB ChatMix Dial
3.5mm 4-Pole Adapter
DTS Headphone:X 7.1 Surround Sound
We partnered with DTS Headphone:X to use an entirely new algorithm specifically designed for Arctis. DTS Headphone:X goes above and beyond any other surround sound solution. You can perfectly identify positional audio, including enemy location and environmental cues.
The Best Mic In Gaming
We designed the Arctis mic to be as clear as a broadcast-quality microphone. Like a broadcast mic, ClearCast picks up and reproduces an ultra-wide range of high frequencies, making your voice sound remarkably natural.
Read The Full Story
Balance Game and Chat Audio
ChatMix Dial
Lightweight Design
Our goal with Arctis was to create a lightweight headset so comfortable, you'll forget you're wearing it. We went back to the drawing board and stripped down all the unnecessary components, leaving us with a minimalistic design that's more efficient at suspending the headset while being as light as possible.
Ski Goggle Headband
The Ski Goggle suspension band, which effortlessly wraps itself around heads of all shapes and sizes and evenly distributes the light weight of the headset. Use the simple Velcro adjustments to dial in the perfect amount of stretch, and you'll soon forget you're even wearing a headset.
View all accessories
Software customization
Get the most out of your Arctis 7 with SteelSeries Engine. Customize your surround sound, EQ settings, microphone settings, and more. DTS Heaphone:X 7.1 Surround Sound available only in Windows 7+.
Get SteelSeries Engine
An Arctis For Everyone
Price

Wireless

Connection Type

7.1 Surround Sound (Windows only)

ChatMix

RGB Illumination
Arctis 3

No

Analog

Yes

No

No
Arctis 3 Bluetooth

Bluetooth

Analog + Bluetooth

Yes

No

No
Arctis 5

No

USB, Analog

Yes, DTS Headphone: X

Yes

Yes
Arctis 7

Yes, lossless 2.4G

USB, Analog

Yes, DTS Headphone: X

Yes

No
Frequently Asked Questions
How is the headband on the Arctis different from other gaming headsets?
The big problem we have seen in competitive headsets is the use of a fixed headband, which focuses a majority of the weight on a single point causing pressure points and discomfort. From our experience - there is nothing as comfortable and stable as suspending ear cups over the head with a textile band. We looked outside of the gaming industry and were heavily inspired by the stretchy, adjustable nature and breath-ability of ski goggles. The Ski Goggle Band automatically contours to every head shape and size, while evenly distributing the weight of the headset across the entire head.
What is the difference between a unidirectional mic and a bidirectional mic?
The Arctis line features a retractable bi-directional microphone that picks up sound in very narrow angles, which perfectly isolates one's voice and eliminates all background noise. To achieve this level of clarity, the position of the mic in relation to the gamer's mouth is extremely important. We optimized the microphone design so that it pulls out to the exact location where it needs to be positioned at the corner of the mouth. It's also physically flat to make it obvious which direction it should face.
What microphone options in SteelSeries Engine 3 are unique to Arctis?
There are several microphone options available in SteelSeries Engine 3 for the Arctis ClearCast Mic. Gamers can control the amount of side-tone, personalize their microphones noise reduction, as well as hear preview how their voice sounds with the mic preview.


How do I know if the Arctis 5 is the right gaming headset for me?
Great question! Arctis 5 changes everything you know about a gaming headset with completely overhauled audio, a new mic design with unmatched clarity, and comfort through materials inspired by athletic clothing. Additionally, Arctis 5 features RGB illumination, Game/Chat audio balance, and DTS Headphone:X 7.1 Surround. Alternatively, you can use our interactive headset guide, and compare the Arctis 5 with our other gaming headsets
here
.